Short Pours 12/03/13
Perennial Take Over @ Bier Station
At 5pm tonight, Kerry Bryan will down at Bier Station in Waldo hosting a tap takeover. There hasn't been an official tap list released yet, but Abraxas was released just a few weeks ago. Here's to hoping.

At worst you can likely find yourself drinking Heart of Gold or Aria or Peace Offering on tap - all fantastic beers. They'll be pouring from the bottle as well, and Kerry hasn't announced what's in store, so you'll have to drop by to find out.

KC Beer Scouts Talks to KC Bier Co.
I for one am very much looking forward to KC Bier Co. opening up. The KC Beer Scouts got a little inside look at what's going on currently with Steve Holle -
read it here
. Long story short, beers should start pouring come January!
Cinderblock Taps Black Squirrel
If you haven't been over to Cinderblock Brewing, you're severely missing out. And even if you have, but
it's been a while, it's a good time to head that way now that they are serving a new
Russian Imperial Stout
lovingly called Black Squirrel. And they are now open on Tuesdays until 9pm as well.
New Beer on the Shelves
There are quite a few new beers out there - but what's got everyone hot and bothered is Goose Island's Bourbon County Brand Stout. It was officially released on Black Friday, but I've heard that there are still bottles out there in the wild. The variants (Barleywine, Coffee, Bramble Rye) are more of a mystery, some have been seen at some stores around town - it may be worth picking up the phone and making some calls.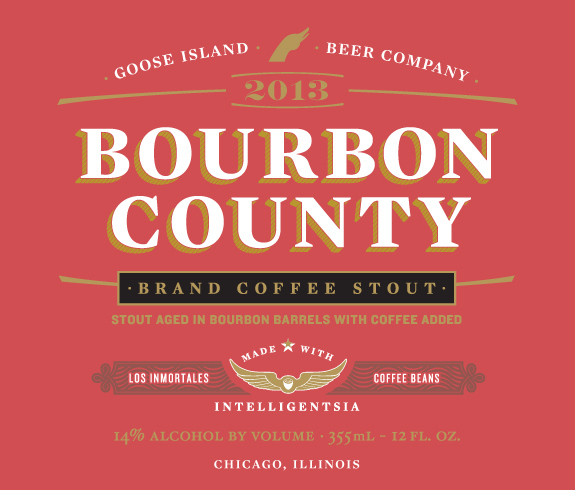 Founders
is officially in Kansas now as well. If you're dying to pick some up, I know Rimann in Lenexa already has them out on the shelves, but most liquor stores should have them out within the week. The good news is that we may see some more Backwoods Bastard make it's way around town, the bad news is Kentucky Breakfast Stout won't be around until the 2014 release at the beginning of April.
Did you hear about
Stone's Crime & Punishment
? Well, Stone took their Lukcy Bastard and Double Bastard and infused each of them with hot peppers and then they were aged in whiskey barrels. If that's your thing, they're out there. You have at them.
Beers from
12% Importers
can now be found on the Kansas side - that includes brands like
Evil Twin
,
Local Option
, and
Stillwater
. Fun fact, the man behind Evil Twin, Jeppe Jarnit-Bjergsø, lived in Lenexa in 1995.
If you're a Mothers fan,
Foggy Notion
barleywine is in town now as well. It's a beer I love, and I'd highly recommend grabbing some if you've never had it.

Shelton Brothers hit town again last week. They brought with them beers from Prairie Artisan Ales, Jolly Pumpkin, Mikkeller, and Crooked Stave. If you're looking to pick any of those up, your best bets are either at Lukas in KCMO or The Bier Station.