Fork and Screen
After last
Friday
night's
activities
Stella and I decided to spend a relatively quiet Saturday night out at the movies. We've been wanting to go the
Fork & Screen
(The AMC Theater in Olathe) since it opened because we enjoyed the concept 5 years ago in Wichita (We saw "Dodgeball" and I drank Sam Adams Lager). On this night, though, we decided upon seeing "Four Christmases" at 9:30. I guess I'm only in the mood for a beer and a movie if said movie stars Vince Vaughn.
We went out for a leisurely dinner and did some shopping at Border's and Target and made our way over to the Fork & Screen about 8:30 so we could grab a drink at the bar before the movie. The Fork & Screen has a bar called
MacGuffins
in it where you can get a drink while you wait for your theater to open up. The beer selection wasn't great; Boulevard Pale Ale and Wheat, Sam Adams Lager and then 4 or 5 big domestics on tap with an equally uninspiring list of bottles available. At $3.89 and $4.89 a pint, the uninspired selection is priced pretty steep (but not that bad considering it's a movie theater).
We sat at the bar for awhile and discussed the previous evening but nothing about that bar was warm. It has no ambience, no music, no TV's, it felt like a hotel bar in the middle of the lobby or an airport lounge, just a place for people to grab a beer until they had to be on there way. I suppose that could be by design because they don't want a bunch of drunks in their theaters, but if they were worried about that they wouldn't serve Jack Daniels, vodka or Budweiser, the 3 horsemen of the Drunkocalypse.
About 9:00 we decided to venture into our theater, and a good thing we did. The theater was already about half full, the one we were in only seats 60-80 people and 20-30 of those are sitting on the ground level where only kids and people who forgot their glasses want to sit. Right as we sat down a waitress came by to see if we needed anything. We each had about a third of a pint left so we didn't need anything, she graciously offered a water which we accepted and she went on her way.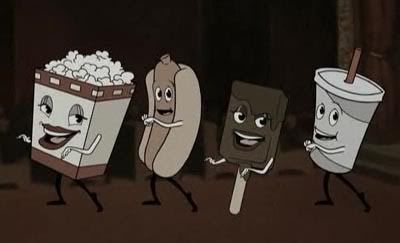 Right before the movie we decided to partake in the bottomless popcorn bucket for $5.89. Stella really loves movie theater popcorn with the fake butter stuff all over it, I'm really not that big of a fan. But I like popcorn in general so I was going to eat some. When we got the popcorn it didn't have any of the "butter" on it (in fairness to the waitress we didn't ask for it, but she didn't ask either). I was pretty happy with that development as I got to enjoy it a little more than normal. The lady sitting next to Stella after witnessing our situation decided she wasn't going to risk it and went out to the concession stand to get her popcorn so she could butter to her heart's content. After I polished off that bag we called the waitress over for another round of beers and some more popcorn, with butter this time.
Then the previews started and the lights went down. Our popcorn came, sans "butter", but our waitress was off like a flash before we realized it. So we had to wait for about 5 minutes before the waitress came back by (to be fair, they do have a service button you can push, but I believe that my "butter" might end up being spit if I pushed that button). I told her that I had asked for butter, which she repeated as "you wanted a side of butter?". I always hoped in my life that if I was ever presented with an offer of a side of butter that I would refuse, but on this occasion I had to answer in the affirmative. When she came back, a couple of minutes into the movie (I believe at the exact moment I realized that Peter Billingsley was the ticket agent at the airport) she brought two little bowls full of butter, this was a bit of a low point in my life. Now when presented with the question "have you ever eaten a bowl of butter?" I have to answer yes. You never know what St. Peter is going to ask, what if the butter question is a deal breaker? I guess I'll see you in Hell.
After that point we didn't have to deal with ordering anything for the rest of the movie. At about 10:30 the waiters and waitresses started distributing tabs to everyone. This is a giant pain. It's right at the climax of the movie when you're wondering if VV and Elle are going to stay together or split up. Stella grabbed the bill and perused it and found that we were being charged for 2 popcorns. Well clearly this was wrong so while we should have been watching the touching scene between VV and Tom Hagen we were looking for a waitress so we could rectify the incorrect bill. We finally flagged someone down and told her of the problem and she said she would clear it up. A couple of minutes later someone came by and dropped off a new bill at our little table. Well it was a new bill, but had the same mistake. So we had to find someone else, this time I did push the little service button. Our original waitress came by and we told her of the problem and she said she'd fix it. And she did, she brought back a correct ticket and we paid.
No one was ever rude or questioned us or made it uncomfortable. It was just a pain to find someone, explain the sitch and get it rectified all while you're trying to be quiet and watch your movie you paid $20 (approximately) for. I think this may be the reason someplace like the Fork & Screen isn't the norm. The smaller capacity, the longer time it takes to turn a theater (clean it up and reseat it) and customers not being able to fully focus on the movie turn the Fork & Screen into an unprofitable venture.
While it might be nice to eat dinner while you watch your movie (the dinner menu actually looks appetizing and is reasonably priced), I don't think it's something I would want to do regularly. I would like to drink a beer with my movie everytime, but I think it would be just fine to get one from the concession stand and bring it into the theater with me. The long distance between the chair and table in the theater is another sticky point in the proposition. You have to sit at the edge of your seat just to be able to reach the table. At the Warren Theater in Wichita, the food comes on a tray that sticks into your cupholder. I think this is probably the better option.
I didn't find anything really wrong with the Fork & Screen and plenty of things right (good legroom, comfortable seats) but it wasn't the moviegoing experience I was hoping for. We had enough minor annoyances for the Fork & Screen to be nothing more than any number of options for seeing a movie. Beforehand I thought I would see every movie I could at the Fork & Screen. Maybe the more expensive
Cinema Suites
will meet all of my pesky demands, I don't know, What I do know is that the Fork & Screen has some room for improvement. I hope they work out the kinks.